Calyx Concentrate Containers
Our 5ml glass concentrate jar has a flush neck making it perfect for packaging high quality hash, wax, rosin, shatter, crumble, budder, or any other concentrates. The tranluscent container helps reflect light causing the contents inside to shine for retai
$0.40
Description
If you are interested in our products,please tell us
Email: sales3@crcpack.com
Tel/WeChat: 18813947686
WhatApp: +86 18813947686
Capacity: 4ml 7ml
Cap type: child resistant cap
Use:CBD oil
Material:Glass
Feature:Eco-Friendly, Stocked
Place of Origin:Guangdong, China
Item:cod oil concentrate jar custom logo
Bottle material:glass
Bottle color:custom
Usage:hemp weed CBD
Cap type childproof cap
Surface handling:frost, color printing, hot stamping, silk screen, electroplating
Product Preservation
Calyx Concentrate Containers are available in 7mL and 4mL to optimize preservation of various quantities of extracts. The lid consists of our signature gasket technology combined with our FEP liner to prevent your extracts from sticking and leaking.


Sustainability
Bring your sustainability values to life with our mindfully manufactured Concentrate Containers. Made out of 56% recycled glass, these containers are 100% recyclable at the end of life, lid included. Experience a high quality, durable design that strongly encourages reusability.
Learn more about our Sustainability initiatives.


Child-Resistant + Senior Friendly
Calyx Concentrate Containers exemplify sophisticated safety for your cannabis product. The design utilizes our signature pinch-and-pull lid mechanism, which is Senior-friendly while accessible to those with dexterity limitations. This container is Child-Resistant and tamper evident with the use of a shrink band or sticker.


Inventory Management Transport and Filling Trays
Calyx Concentrate Containers arrive uncapped, and are placed in ready-to-fill trays. These Thermoformed Trays' modular packaging design optimizes your business operations and increases your large-batch filling and capping efficiencies.
Our Thermoformed Tray design protects glass containers throughout the entire storage lifecycle prior to distribution. Load and unload glass units with ease and organization, saving your business time and labor.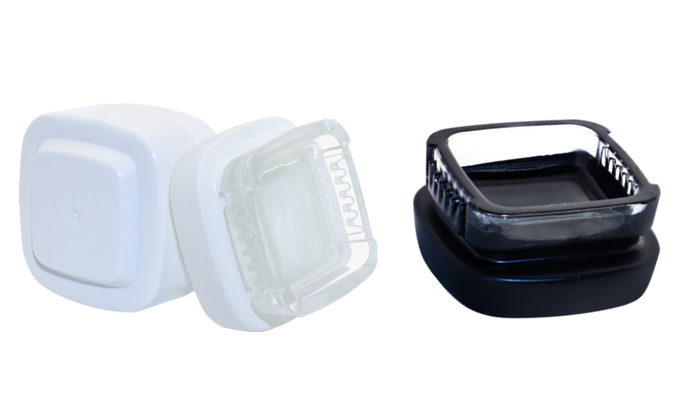 Looking for a smaller container? They're also available in 5mL opaque or clear.